7 questions to ask your KOA Camping representative when you
call ahead to reserve.
KOA Camping….makes life easy.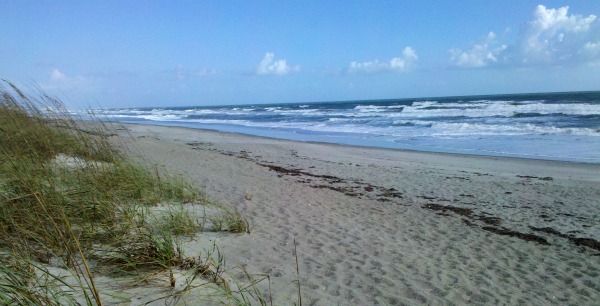 A beach on Florida's east coast.
Sometimes opportunity presents itself in strange ways. The Camping Detective and his sidekick head southeast to Florida for a change. Our motto is never turn down an opportunity to go on a camping trip.
Our road trip to Florida, partly business and partly pleasure, is a first for us. Never having been to this region before makes the whole trip all that much more exciting. No longer are City Market grocery stores the norm, here they're called Publix.

During this particular trip we most often stayed at KOA Campgrounds. Some days we needed to get cleaned up and dressed nice. KOA's make it easy to do that.

A KOA pool to help you cool off on a hot day.
| | |
| --- | --- |
| Some KOA cabins. | Keep in mind that not all KOA's are created equal, some are franchises, some are run by corporate, and prices vary. The price range has been $22.00 to $42.00 for a tent site. Note: We did not stay at the most expensive one, we opted for a less expensive night of camping at a private camping resort. |
Here are some of the amenities they may provide.
• Hot Showers
• Some have hot tubs and pools
• Playgrounds for kids
• Mini golf. Love it!
• Exercise facilities
• Laundry
• Areas to grill
• General Stores
• Lounge rooms with Wi-Fi & TV
• And more....
To better plan ahead for your KOA Camping trip, pick up a location catalog on your first visit. They do come in handy!
Since many KOA's are located throughout urban areas, ordering a pizza and having it delivered to your campsite is not out of the question.
A round of mini-golf anyone?

During our trip, through many States, we did notice something important and learned from it. Although KOA's are nice and well taken care of they are also quite often located in some unusual places.

With that in mind here are several important questions to ask when planning to travel and "hope to get a good night's rest".
7 Questions to ask your KOA Campground representative when you call to reserve.
1. Is your KOA located near the local airport? And, do beginner pilots practice take-offs and landings there?
2. Is your KOA located next to a ship yard? Ship horns are really loud!
3. Are you located next to a Railroad Crossing? Coal trains with 100+ cars are the best.
4. How close are you to the main Highway? Note: the farther away the better.
5. Is the main road on a steep hill next to the campground? I like to ask this because truckers love to use their engine brakes at night when they know a campground is nearby.
6. Are you next to the fire station? Fire stations near big cities get lots of emergency calls all night long.
7. Are you located next to a 24 hour truck stop? I don't know about you but the fresh smell of diesel really makes me feel great in the morning. Sort of like that jolt you get from a big cup of coffee! Not to mention the clatter of diesel engines idling all night.
At this point you probably realize where I'm going with this. If noise doesn't bother you at night, you're lucky!
Bring some earplugs along anyway! It's hard to ignore the horn of a freight train every 30 minutes.
It's always important to call ahead and reserve spot no matter what time of year.

Today is the last day of October. Many KOA Campgrounds are closing their doors for the winter tomorrow. Some are open all year round. It's a good idea to find out which ones are still open especially if you're between major cities somewhere.

This was one of the really quiet campgrounds.
Have a great time camping out there!
---
---
Head back to the Home Page from the KOA Camping Page
---
---