Vegetarian recipes for camping: Some easy veggie camping meal ideas.
With a little advance planning, preparing a vegetarian meal can be really easy when you're camping.
Welcome to thecampingdetective.com vegetarian recipes page.
I'm currently adding more delicious recipes.
Please check back every now and then for new ones!
Getting food ready for a camping trip:
By doing a little food preparation in advance and taking advantage of our downloading our printable recipes before a camping trip, you'll be able to quickly produce some delicious meals while camping.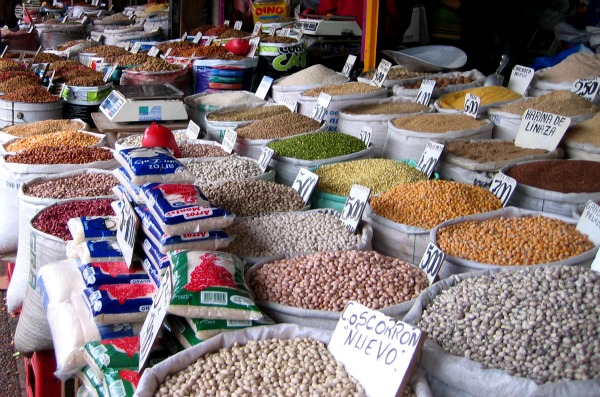 Visited this market to stock up during our South American camping trip in Puyehue, Chile
Although it's best to prepare these items at home before heading out on your camping trip. The versatility and nutrition level of the following listed items are unmatched:
Rice
Quinoa
Couscous
Peas
Beans
Farro
Other legumes
Once cooked, place the items in a sealed container and store in the refrigerator until you're ready to pack the camping cooler.
Another option, of course, is to purchase your beans in cans. The advantage is reduced cooking time and effort. But, good recipes are just not quite the same without fresh ingredients.
It really wouldn't make much sense to take a bag of dried beans along on a camping trip and then soaking them for a few hours or even overnight to prepare them the next day.

Here are some bean varieties that I like to use when camping:

Black beans

Kidney beans

Lentils

Fava beans

Edamame

Garbonzo beans

Adzuki beans

Soya beans

Farmers market in Paonia, Colorado
There are some great food combinations available. For example you can take some rice and adzuki beans. Add some fresh veggies such as celery, carrots, broccoli, squash and corn. Mix it all together and put it in a pita bread or how about rolling into a cabbage leaf?
The possibilities are endless!
Something to keep in mind.
When preparing meals for your camping trip it's best to plan ahead and make a little more food. For example: I'll make enough rice ahead of time for two additional meals.
You can always use the extra food to create new meals. Mix and match.
Be creative and have some fun in your outdoor kitchen!
---
You may like these delicious vegetarian recipes....
A perfect quinoa recipe for your camping trip.
Click here to check out the edamame recipe.
Check out this delicious mushroom stew over rice recipe.
Here's an easy curry recipe to enjoy!
Have you ever wondered...what is farro?
A versatile nutritious lentil recipe for camping.
Click here to leave the vegetarian recipes page to go to the regular recipes page.
---
---
---
---