Need a printable camping checklist? No problem, you've come to the right place.
With a camping checklist in hand, you can be ready for your camping trip in no time!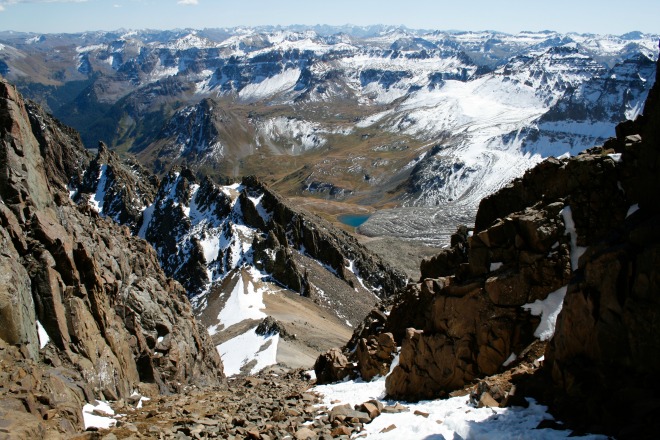 A view from Mt. Sneffels to our campsite down below.
Keeping all the items on the printable checklist separate from everyday household items will make your life a lot easier when getting ready for a camping trip.
All you'll need to do is get some food ready, pack the car and go.
The core of my camping items are kept in boxes, stowed away, all winter long. In the Spring I pull the box off the shelf from the garage, give it the once over check and I'm ready for camping.

Keeping all the items stored in closed boxes and containers helps protect everything too. There won't be any dust and dirt build-up on your equipment. 
There's also less of a chance hungry critters will gnaw on your stuff when you're not using it. Those little guys can do some serious damage and leave a real mess behind. Nothing worse than discovering your tent had been converted into a critter housing facility during the winter months.

---
Download your free printable Camping Checklist here.
---
If you need some camping food ideas, go to the camping recipes section.
For help help with food shopping, you can get a camping grocery list here.
---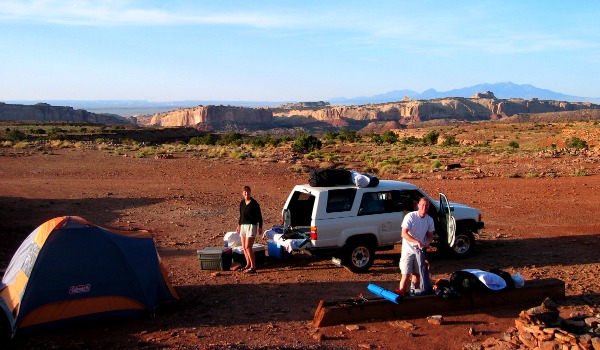 Camping on the San Rafael Swell, Utah
Here are some of the items that can be found on the printable camping checklist:
Camping Stove.

Lantern.

(2) "Teflon" Frying pans with a lid, (2) stainless steel pots with a lid and a tea kettle.

Cutting boards


Toaster, yes a toaster!

Some forks, spoons and various "sharp cutting knives". Spatula & Tongs.

(2-3) plates, bowls & cups

Extra stove fuel containers and (1) with a pour spout. Or, bring a small funnel.

A plastic container that holds, matches, dish soap, olive/cooking oil, click lighter, trash bags (kitchen size), zip-lock bags, aluminum foil, bottle opener, cork screw, spices, salt & sugar, dish soap, tea bags, coffee & soy sauce.

Espresso maker (6) cup.

(1) Large tray. Not a necessary item….but it's handy to have one.

Fly swatters. Deep Woods Off Insect repellent. Mosquito coils.

Towel (for drying dishes) and a dish sponge.

Paper-towel roll.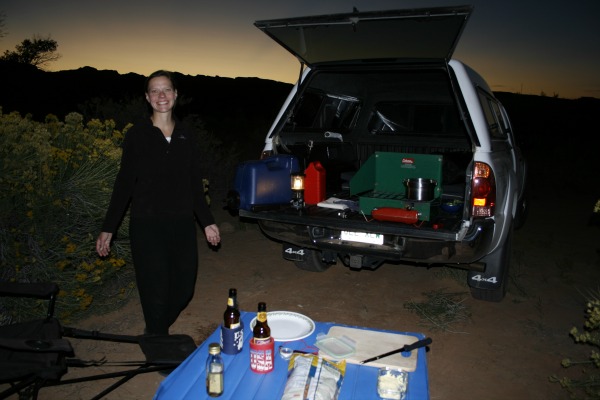 Camping near Capitol Reef National Park, Utah
Follow the link to return to the main how to camp section or back to the homepage.
You may also be interested in reading about:
Before heading out to camp for the first time, check out these important camping tips first.
---
---
---
---
---