Are you planning a Camping Trip? But, can't decide where to go? Here at The Camping Detective, we'll give you some ideas.
A brief look at camping trip ideas from your own backyard to destinations around the globe.


Planning a camping trip? Summer vacation is coming up. The kids are out of school. If you get as excited about camping as much as we do you are most likely planning a trip somewhere already.
The question is: Where to go camp?
Generally, our trips vary with the change of seasons. We prefer not to camp in the cold of winter. Our activities shift more towards snowshoeing and skiing during that time.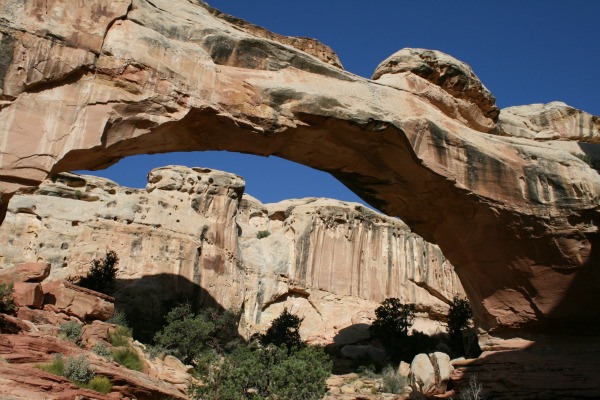 Capitol Reef National Park, Utah.
Spring and Fall camping trips? Head to desert areas.

Once spring arrives we like to camp in warmer regions. The low lying areas around Moab, Utah are perfect.
A great place to visit is Goblin Valley and Little Wild Horse Canyon located southwest of Green River, Utah.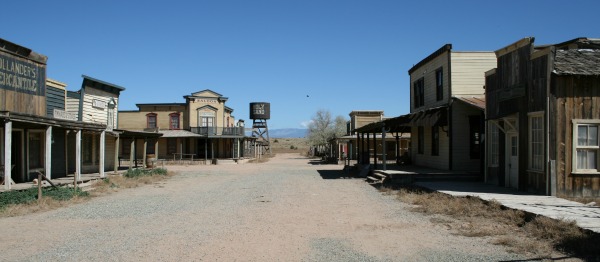 Old Ghost Town/Movie Set near Santa Fe, New Mexico.
Also, unlimited camping opportunities in northern New Mexico.
The nights may be cold but the daytime temperatures between those beautiful red sandstone canyon walls will get up above 70 deg F. Once the sun comes up it warms up quickly.
Hiking and Mountain Biking are perfect in spring and fall.
If you happen to be an avid hiker during your camping trips, areas such as Grand Canyon, Zion, Bryce Canyon and Great Basin National Parks are perfect.

Exploring Little Wild Horse Canyon in Utah with Nick and Hansa.

In the summer months of June, July and August the daytime temperatures can get too hot to do physical activities safely.


This is especially true if you plan to hike down into the Grand Canyon, where you may need more water than you can carry!

Chances are you may encounter a few less tourists to these popular destinations during off-seasons times.
Don't forget about Lake Mead and Mojave in Nevada. What can be better than sinking your teeth into an "all you can eat buffet" before heading back to camp? At least there won't be any dishes to take care of!
Camping in those hot days of summer.

Unless you are lucky enough to have a cool lake nearby where you can go camp in the heat of summer, you may want to head to the northern states such as Colorado, Montana, Wyoming, Idaho, Oregon and the Dakota's.

Many of these States also offer some excellent National Parks to visit.

The Needles, Black Hills of South Dakota.
If it turns out you happen to be traveling through Moab, Utah in the heat of summer, camping up in the La Sal Mountains is a cool alternative.
For example, both Teton and Yellowstone National Parks in Wyoming are excellent places to camp mid-summer.
A "later than usual trip", read about our September camping adventure from Colorado to Yellowstone National Park.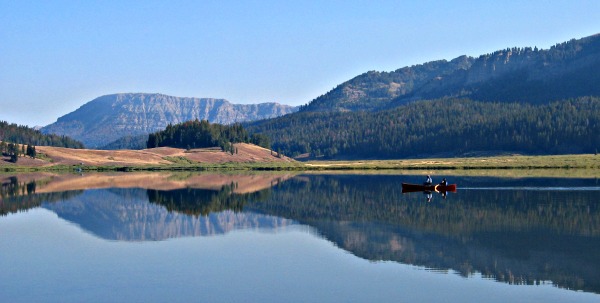 Brooks Lake, Togwotee Pass, Wyoming.
Don't forget about taking a trip to Canada. They have some of the best camping facilities anywhere.
We are lucky to have the High Country of Colorado as our backyard. Heading to places where tall lush pine trees grow at high altitude provides perfect summer temperatures away from the heat.
Getting tired of Winter? How about heading to exotic places in the Southern Hemisphere to do some camping?
Maybe you're getting tired of winter where ever you live? Slipping and falling on the ice? Scraping the ice off the windshield every morning? Is your back sore from shoveling snow?

Here are some ideas.

How about A Camping Trip to "The Land Down Under", Australia!

Or, maybe wild and beautiful New Zealand or South America?

We've had some great trips south of the Equator. You can too!

Chilean Waterfall, Osorno, Chile
Ever thought about camping in Europe or Scandinavia?
What about Iceland, Norway, Sweden or Finland? Eastern Europe? Or, Austria in the Central Alps?
Historic Bridge in Norway

Every one of these places has a unique flavor and of course their own set of challenges. Taking a camping trip to these exotic places is actually the easy part. Meeting other campers that are traveling and the locals are very helpful.

It's the little stuff like buying food and supplies for camping where the experiences become very interesting. For example, most flights from the US arrive in Iceland very early on a Sunday morning. Stores don't open until late afternoon and then the question what to buy and what is actually available.

But, more on that later.
Camping at the base of the Vatnajokull Glacier in Iceland.
I'll be continuously adding photos and trip ideas from all these places that I we've mentioned on this page. Please keep checking back from time to time for additional pages and information.
Head back to the Home Page from the Camping Trip Page.
---
---
---
You may also be interested in reading more about:
A September trip to camp in Yellowstone National Park
Our trip from Southwest Colorado to Yellowstone National Park was incredible.
A late summer trip to Bryce Canyon to do some camping
Camping and hiking while visiting Bryce Canyon was one of the things on my bucket list.
Visiting Grand Canyon National Park in May to camp is perfect
Visiting the Grand Canyon in May is a prefect time. Nice weather and fewer crowds.
Ever hear of Great Basin National Park?
Most people haven't, but exploring the cave in this park is a must.
Where is Goblin Valley?
This is a fun, out of the way place to visit.
Thinking about camping La Sal National Forest near Moab Utah?
Do it, it's awesome! Especially if you like free camping.
Camping in Australia
If you're tired of winter and you want to go camping. Head to "The Land Down Under".
---
---