Going camping? With this printable camping grocery list you'll be able to fly through the supermarket.
This printable camping grocery list could also be used to help organize a family outing. The best part....it's FREE.
Having a printable list will make getting ready for a camping trip a bit easier! Between shopping and organizing the camping gear, getting ready for a trip can take lots of effort.

---
You can get your printable camping grocery list here.
---
This list was intended for having great healthy meals. Being outside in the fresh air all day can build a healthy appetite, so why not eat like a king when camping?
The food list I have put together is more in-line with the recipes you can find in the camping recipes section.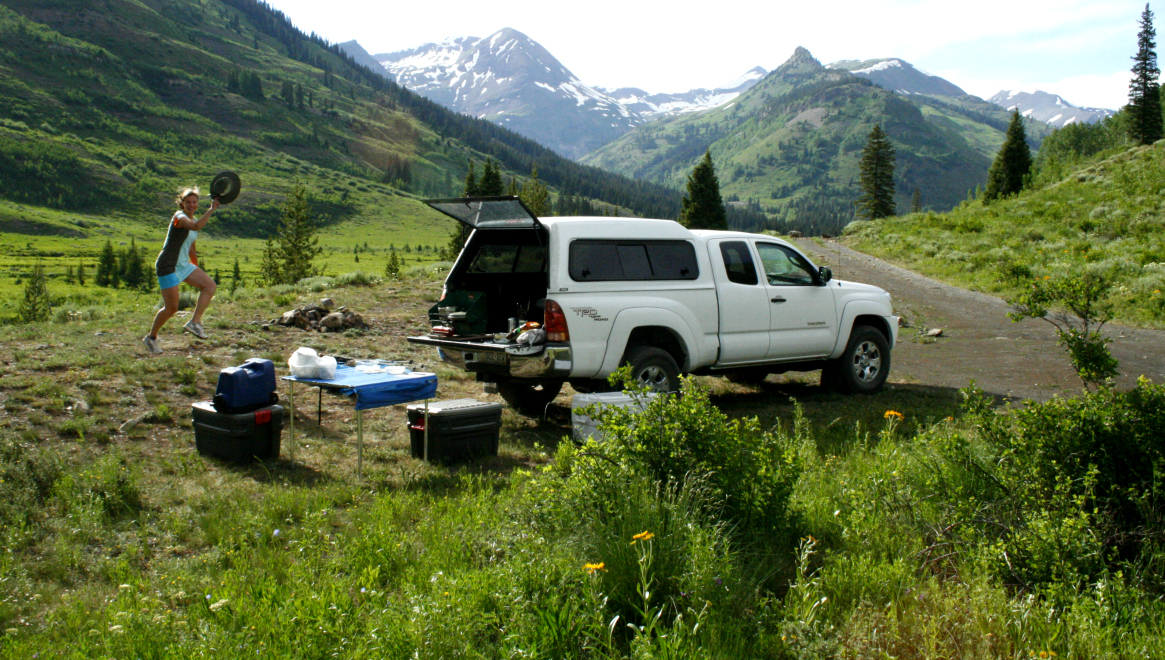 TheCampingDetective "Sidekick" goofing off while cooking up the Ground Buffalo Recipe along the Slate River near Crested Butte.
Since I'm out there camping upwards of 40 days every summer, having a variety of different things to eat, makes the camping experience that much better. Cooking and camping, I love it!
The grocery list is broken down into Breakfast, Lunch & Dinner sections. Additionally you'll find a snack and herb/spice section. And, don't worry, I didn't forget the drinks.

Besides the food items, I've included a couple extra items that you may find useful to have along on your camping trip.
In case you'd like to add some items of your own, I've left some blanks so you can fill in any additional important items as you choose.

---
If you are "new to camping" and may be heading off to camp for the first time, I have a super simple printable food shopping list, just for you.
---
If you're new to camping you may not have collected all your cooking items just yet. Or, preparing a more complicated meal may be too difficult at first. At this point you may like to keep the camping meals super simple! I've created a separate food shopping list especially for you.


The list of "super simple camping foods" are items that may be more convenient for you to make while being in the outdoors. Simple, fast and easy!

Sometimes bad weather can take the fun out of cooking a great meal. In times like that it's nice to have that can of stew along where you can just open the top, heat and eat. Simple can be very delicious.

Feel free to change the camping grocery list to suit your needs. Below is a list which includes some basic descriptions.

Cheers and happy grocery shopping. Have a great camping trip!

Cooking up some breakfast near Animas Forks, CO
The Camping Detective- Printable Camping Grocery List:
Dinner Items:
__steak (boneless cut - cooks more evenly & stir fry is easier to make)
__chicken (legs or wings – smaller pieces grill faster & easier)
__bratwurst (smoked Bavarian – can be boiled or grilled)
__ground meat (beef or bison)
__rice (any type is fine but I do make it prior to camping)
__spaghetti (the thin ones cook faster & easier at high altitude)
__potatoes (the smaller the better)
__quinoa (pre-washed type is easier)
__couscous
__tortillas (wraps – place in aluminum foil over campfire or stove to heat)
__black beans (a small can for wraps)
__salsa (nice to have for wraps)
__tomatoes (roma type last longer and are tougher when in the cooler)
__lettuce (iceberg and romaine hold up better in the cooler)
__onion
__garlic
__red pepper
__zucchini


Lunch Items:
__ bread (rye or multi-grain for sandwiches)
__salami (cured)
__ham/prosciutto
__turkey (oven roasted)
__tuna fish (canned)
__cheese-havarti (lasts a long time in the cooler)
__cheese-muenster (doesn't last long, but it's delicious)
__butter ("land-o-lakes" unsalted brand for cooking and sandwiches)
Breakfast Items:
__oatmeal (quick oats cooks fast & instant oats are easier to clean up)
__cereal (granola)
__jam
__bananas (great for snacks too)
__apples
__oranges
__strawberries
__raspberries
__blueberries
__peaches
__eggs
__bread (French toast if you have lots of time in the morning to make it)
__maple syrup (for French toast of course but stick to the real stuff 100%)
__yogurt/kefir (great with the fruit & oatmeal)
__coffee/espresso
__tea (any type)
__juice/breakfast drink
__milk (I use a little milk when making oatmeal, tastes better)
Herbs/spices:
__salt & pepper
__sugar
__Lawry's seasoning (I like this one because it does not contain MSG)
__red chile flakes
__thyme
__rosemary
__soy sauce (low sodium)
Drinks:
__adult beverages
__water (bottled)
__energy drinks
__sports drinks
__juices
__carbonated drinks (soda/pop)
Snacks:
__clif bars (chocolate almond fudge)
__Snyder's pretzel nuggets (Thes don't crumble like other pretzel types)
__chips/salsa
Other Items:
__insect repellent (or flyswatter)
__matches/lighter
__ice for cooler
__fuel for stove
__batteries (flashlight)
The fast shopper's camping grocery list for super simple camping meals.
Download your free "simple" printable food shopping list here:
For the main meal:
__hot dogs
__ground beef (for hamburgers)
__meat (steak and/or pork-chops)
__beef stew (canned)
__soup (instant mix or canned)
__macaroni & cheese
__ravioli
__stew (canned)
__corn on the cob
__vegetables (canned corn, peas etc.)
__baked beans (canned ranch style)
__cooking oil
__top ramen noodles
__buns (for burgers and/or hot dogs)
__BBQ sauce
For lunch:
__loaf of bread
__deli meat
__cheese
__squeeze butter
__jam/peanut butter
__ketchup
__mustard
__pickles
__relish
__mayonnaise
For breakfast:
__bacon
__sausages
__eggs
__milk (can be powdered)
__pancake mix
__maple syrup/blueberry syrup
__cereal (cheerios)
__oatmeal (instant)
__bananas
__apples
__oranges
__donuts
__cookies
__granola bars
__fruit (canned peaches and pears)
Drinks:
__coffee-instant (don't forget the creamer)
__tea-black
__hot chocolate mix
__gatorade
__soda/pop
__bottled water
__adult beverages
Snacks:
__potato chips
__corn chips
__pretzels
__salsa/guacamole
For the campfire: Smores
__marshmallows
__graham crackers
__chocolate bar (hershey's)
You may also need:
__salt & pepper
__sugar
__insect repellent (or flyswatter)
__matches/lighter
__ice
__fuel
__batteries (for flashlight)
If we've missed a very important item on the Camping Grocery List, please let us know.
---
---
---
---