Do some free camping and connect with nature.

Free Camping or Boondocking? The terms can mean several things:
You may be camping for free or rather, not paying. Or, you've decided to remove yourself off the grid. Far off the grid, away from, not only society but all other campers out there.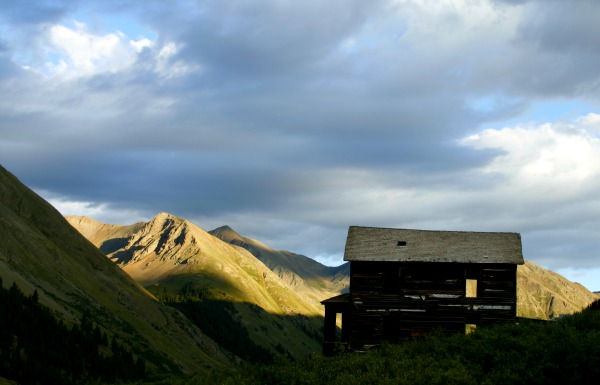 Animas Forks Ghost Town
Personally, I love free camping! Rarely are there sounds from barking dogs or even the occasional car alarm. You'll see more stars in the night sky that can be imagined since there are no other lights or campfires around.
---
Areas I like to go free camping are:

(I'll be adding more destinations as time goes by.)

---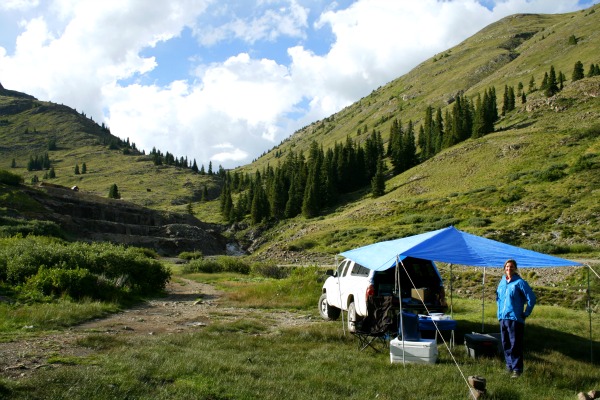 Camping near the base of Cinnamon Pass
In the USA there are lot of places to camp for free. In almost every state there are areas comprised of National Forests and BLM Lands (Bureau of Land Management).
For the most part, these areas are free to camp in. Some areas ask for a donation. However, certain guidelines or rules are in place and do vary a little from State to State.
Note: National Parks are not free and you must camp in designated campgrounds.
Important restrictions to be aware of:
The various regions are often cut up by private land. And, access to free camping may require travel through private land. There may be no trespassing signs or fences along the routes. It's always a good idea to respect private property.
Whether camping on BLM or National Forest land, the length of stay is usually 12-14 days in one spot. After that, you should move to another location. This may vary and may be up to 25 miles away. Check your geographic location on that policy.

There may be campfire restrictions especially if the fire danger is high. The primary concern of the authorities, are the campfires.

Since campfires are extremely environmentally damaging it's best to use any existing fire pits whenever possible.

When I'm out camping in these areas I rarely make a campfire. Fires can be seen from miles away and I'd rather not be seen.

Sunset while camping below Mt. Sherman, Colorado
Another sign you may encounter is: Camp in designated areas only. There could be several reasons for this. Your current location may be a flash-flood area.
It may also be a water shed area for a town downstream and that's where the potential problems of needing to go bathroom in the wild and human waste comes in.
The camping is still free but you'll need to camp in a previously used area. There may or may not be bathroom facilities.
Be prepared for hazards:

Camping in the wild is great but it does come with a handful of potential problems. A 4WD vehicle is not always needed but having a vehicle with ground clearance helps a lot.

Many roads that lead out to the boondocks may have deep sand.

Driving in deep sand. West of Hanksville, Utah
Another hazard can be a dirt road that becomes impassible when wet, turning a normal dirt road into one with deep mud. Colorado, Utah, New Mexico and other States are known for Flash Floods. If you drive through a wash be aware that returning may be difficult even if the actual rain or thunderstorm is many miles away.
Roads are sometimes poorly marked. Take along a good topo map.
Be aware of this and be prepared.
---
---
Continue reading for more information on free camping......
La Sal National Forest near Moab, Utah has tons of places to free camp.
San Rafael Swell (Ridge) past Goblin Valley State Park in Utah has some amazing places to camp for free.
Head to Crested Butte to do some mid-summer camping.
If you're out free camping you'll need to go bathroom sometime. Here's what you need to do.
---
---