Some campfire safety basics, finding the ideal location and getting prepared for a fire.
Depending on your geographical location in the world of camping makes a big difference when planning for a campfire. Some places are extremely wet and humid, other places rarely ever see rain.
I've camped in places so wet a blow torch couldn't start a fire. Some places were cold, where a campfire would have been nice, but there was nothing to burn anywhere.
Every place is very different!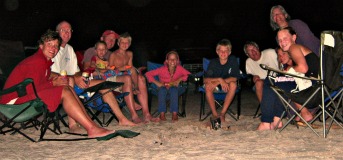 Having lived and camped in the Colorado Rookies for many years has given me a different perspective on campfire safety. This region of the country is very dry and often windy. We have an extensive history of wildfires.
The Rocky Mountain Region often has fire bans and even open flame bans. Even using a closed grill is sometimes not allowed. So, before you set out to go camping, always make yourself aware of these possible fire restrictions….especially if your meals depend on having a fire!
After arriving at a camp site, decide if you really need a campfire? If you make a fire you're ultimately responsible for it.
It would be horrible to be the cause of a wildfire that destroys thousands of acres and other people's property such as homes. Always, make sure the conditions are right for a campfire. How dry is the surrounding vegetation in the area? What is the humidity? How strong is the wind? Is the ground crunchy when walking in the forest?
Always be aware of your surroundings. Think campfire safety.
When planning to have a campfire I often bring my wood from home, or buy it along the way. Campground hosts often sell wood for a few dollars. It's worth it, nicely split and dry! It's difficult to find wood near high traffic campgrounds. Ripping limbs from trees is tough the environment.
Wood form live trees doesn't burn well....it only smokes.
Dead wood on the ground is often needed for other plants to survive and sometimes wood gathering is forbidden anyway.
If camping in a location where firewood gathering is allowed, make sure to get enough wood together to start and maintain the fire for the evening. Especially if camping alone, it's not safe practice to leave a campfire unattended, while out in the forest while looking for additional firewood.
Here are some campfire safety thoughts that have nothing to do with a fire!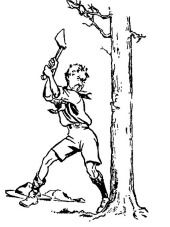 I've witnessed many people injure themselves while collecting and preparing campfire wood.

Breaking off tree branches and getting smacked in the head.

Stomping on a branch to break it and twisting an ankle instead.

Or, stomping a branch, it breaks and flies up and hits the side of the knee.
Ouch!…cuts and bruises. Pain!

When arriving at campsite, use any existing fire pits or rings, if available. Regarding campfire safety, these are the best to use since they have been strategically located further away from other potential fire hazards.
But, what if there are no fire rings or pits?
A campfire needs to be on level ground. Preferably out in the open, not under low hanging tree branches. Although often desirable to have a campfire in the center of your camp, having the fire near a tent isn't good since many tent materials are very flammable. One little flying ember can easily wreck your clothes and equipment!
If building a fire where there is vegetation it's a good idea to clear an area about 10 feet across. Embers can fly a long distance.
2 more important things to have: Always have plenty of water and a shovel next to the campfire.
We've gone over some campfire safety basics and it's time to learn how to make a campfire.
---
Continue reading more on how to make a campfire....
Back to the make a fire homepage.
Find out step by step how to make a safe campfire.
How to build a campfire
No fire ring? Need to make a fire pit? No problem, here's hot to do that!
Campfire wood
In 5 simple steps: Discover how to build a campfire after preparing some campfire wood.
Mound fires and campfire pans
The art of making a mound fire or using a campfire pan, and not leave a trace.
Putting out a campfire
Take these precautionary steps by putting out a campfire the correct way.
---
---
---
---