In September we went to go camp in Yellowstone National Park.
It's a great experience to go camp in Yellowstone National Park. Since September is a bit cooler, stream from the Geyser's can be seen everywhere!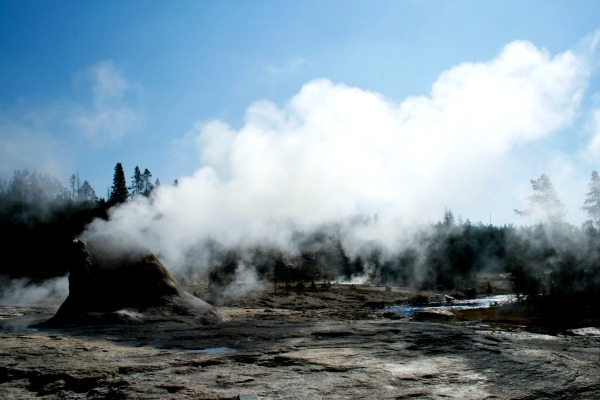 One of many Geysers in the Upper Basin
The first stop on our trip to go camp in Yellowstone was Dinosaur National Monument in northwest Colorado. Very scenic place! A place worth planning a camping trip to all on it's own. On the Colorado side we first camped at Echo Park next to the Green River. Nice place and no one else was there.
It's located about 35 miles from the main visitor center. There are some cool little hikes to do there too. In the summer months the area would be perfect for rafting.
---
Interesting Facts About Yellowstone National Park:
Yellowstone became the first National Park in the United States on March 1st, 1872, and was dedicated by Ulysses S. Grant.
Underneath Yellowstone Lake is is the only active super volcano in the world out of 30, and the only one on land.
Yellowstone contains over 300 geysers and has up to 2000 earthquakes every year.
The Yellowstone Caldera is 45 miles (72 km) long and 34 miles (55 km) wide.
In 1992, Yellowstone had over 3 million visitors, the most ever.
The average yearly temperature in Yellowstone is 35 deg F, and the coldest temperature ever recorded was -66 deg F.
The Old Faithful was the first geyser to be named in 1870 and is the most predictable geographical feature on earth.
Yellowstone consists of 3,472 square miles (8.987 square kms)
---
On the Utah side of the park we camped at the Split Mountain Campground, also on the Green River. This campground tends to get busier than the Colorado side since it is only about 4 miles from the Dinosaur quarry.
It may be a good idea to find a campsite first before visiting the Dinosaur exhibit.
From there we headed up to Flaming Gorge National Recreation Area in Utah. Lots of great camping there! Although most of the campgrounds were closed for the season we found plenty of empty campsites. Great free hot showers there too!
If you like to fish, Flaming Gorge is the perfect place to visit on a longer camping trip. Some largest Brown Trout anywhere are waiting to be caught.
Classic view of the Tetons from Antelope Flats Road. If you're heading north to go camp in Yellowstone this is a great place to stop.
On the way to camp in Yellowstone we drove through Teton National Park. There are endless photo opportunities there. Tons of wildlife and excellent scenery too.
Camping trip tip: Planning to camp in Yellowstone during the months of September or even October? Call ahead to reserve a campsite.
The next stop was Grant Village Campground inside Yellowstone National Park. Surprisingly there were still tons of tourists.
Grand Canyon of the Yellowstone.

Getting a campsite was a difficult task without a reservation. At Grant we got the last available campsite.

At season's end many of the campgrounds already have partial or even complete closures. This limits the number of campsites available for camping.

The September nights can get very cold. Most of the campsite water taps are already turned off to prevent damage from freezing. Also, many of the summer staff had already left the area by late August to either warmer climates or head back to school.

However, a big advantage of visiting the Geysers in Yellowstone later in the season is since it is much colder you'll see a lot more steam everywhere!
The nights in September are a bit chilly.

We had three cold nights in the park where the temperature dipped to the low 20's F.

The Grant Village Campground hot showers, included in the $28.50 camping fee, felt great in the morning. However, you may want to avoid the 8:15 a.m. shower rush.

We found ourselves heading outside of Yellowstone Park a couple of nights because we didn't reserve a campsite soon enough.

(The photo on the right is of a hot pool in Wild Basin.)
No place to camp in Yellowstone? Gardiner Montana is an option.
One night we camped near the town of Gardiner, Montana. A neat little town with nice pubs and restaurants and mostly RV camping nearby with tent sites. The Roosevelt Arch is located there.
A hike up Bunsen Peak will get you some great views.
There is also camping 2 miles out of town towards Jardine. You'll need to bring your own water as there is none at the campground.
We camped at the Yellowstone RV Campground next to the Yellowstone River for $18.03, which includes hot showers.
If you're planning to camp in Yellowstone, the following info will make it easier.
Yellowstone campgrounds: First come first serve.

Mammoth
Norris
Indian Creek
Lewis Lake
Pebble Creek
Slough Creek
Tower Fall

Yellowstone Campgrounds: For Reservable sites

Canyon
Bridge Bay
Madison
Grant Village
Fishing Bridge RV Park (no tent camping though)

Call toll-free at: 866-439-7375

Same day reservations at: 307-344-7311

Grand Geyser in the Upper Geyser Basin.
Reserve your campsite online at: Yellowstone National Park Lodges.

Note: When you call to reserve a site, you'll need to know your vehicle, tent and tow sizes. Perhaps if you tell them your Honda is 35 ft long and you have a 2 man house tent…then you may receive a larger campsite.
We called ahead to reserve a spot at the Madison Campground one night, and don't worry, there is great cell phone coverage throughout the park.
It was a great experience to hear bugling Elk next to the Madison River while enjoying the campfire that evening.
If you're already planning to camp in Yellowstone - spending a couple of extra days in Montana camping and having a look around - is a nice addition.
The following day we headed up to camp in the Gallatin River Canyon near Big Sky, Montana at the Red Cliff Campground.
A fun thing to do is hike to the caves above the campground and look for crystals. We found some nice ones.
On the last night we wanted to camp in Yellowstone but ended up staying at the KOA 10 miles from West Yellowstone.

It was a Friday and the campgrounds filled up early!

KOA camping is expensive at around $38.00, but nice. A dip in the heated pool or the hot tub on a cold night will help you forget the steep price.

Deluxe camping at KOA
The Mesa Falls at Henry's Fork in Idaho is a must see.
From West Yellowstone we headed south into Idaho to check out more cool places to camp and explore. And, we found a real gem.
There is the Henry's Fork scenic route north of Idaho Falls, Idaho off of hwy 20 on hwy 47. This leads to upper and lower mesa falls which are spectacular!
It is a day use area $5.00 and there are campgrounds as well. On the northern end of hwy 47 there could be ample free camping in the forest as well.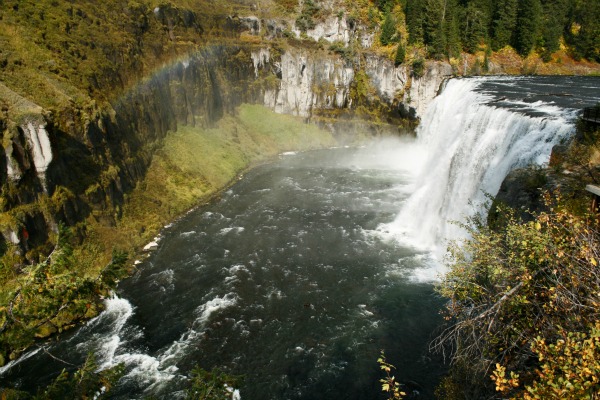 Upper Mesa Falls Henry's Fork, Idaho.
From there our goal was to head to Bear Lake which is contained in both Idaho and Utah. Along the way we camped near Alpine, Wyoming. It was difficult to find a place to camp since all the campgrounds were closed for the season.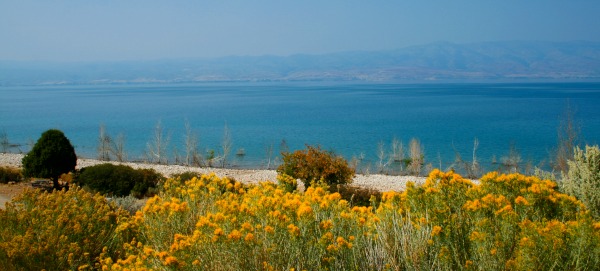 Bear Lake, North Shore
Bear Lake is a spectacular natural lake with some of the clearest water we had ever seen. The water was still warm enough to enjoy a swim. There are plenty of places to camp. We traveled and camped along the east side of the lake.
On the way home from our "Camp in Yellowstone" trip we stopped in Moab, Utah. What an awesome place! And, in September the temperature is a perfect 75 degrees F during the day.
Delicate Arch in Arches National Park.

An early departure from Utah Lake State Park gave us plenty of time to reach Moab, Utah.

After finding a campsite with showers in town, we had lunch at Eddie McStiffs, the local brewery.

Afterwards there was still plenty of time to head into Arches National Park and hike up to Delicate Arch.

This Park offers some of the most spectacular landscape scenery around!

There are many areas to camp with showers and pools throughout the town of Moab and plenty of more affordable camping out of town.

From there it was back to Southwest Colorado. Camping in Yellowstone was a memorable experience. We're looking forward to the next trip.
Click here to head from the camp in Yellowstone National Park page back to the camping trip ideas page.
---
You may also be interested in reading more about:
A late summer trip to Bryce Canyon to do some camping
Camping and hiking while visiting Bryce Canyon was one of the things on my bucket list.
Visiting Grand Canyon National Park in May to camp is perfect
Visiting the Grand Canyon in May is a prefect time. Nice weather and fewer crowds.
Ever hear of Great Basin National Park?
Most people haven't, but exploring the cave in this park is a must.
Where is Goblin Valley?
This is a fun, out of the way place to visit.
Thinking about camping La Sal National Forest near Moab Utah?
Do it, it's awesome! Especially if you like free camping.
Camping in Australia
If you're tired of winter and you want to go camping. Head to "The Land Down Under".
---
---
---
---