Our Grand Canyon camping trip in May.


An early morning view of the Grand Canyon
This was our second annual Grand Canyon camping trip in May. Grand Canyon National Park is one of those places everyone should see in their lifetime. We've been there many times in various times of the year and each time the place is stunning.
A mule train going up the Kaibab Trail from Phantom Ranch.
Driving from southwest Colorado to Grand Canyon Village on the South Rim was about a 7 hour drive. Or, about 380 miles/608 km.
Although the South Rim is busier with tourists, it's better all around. You'll find more amenities, view areas and better sunsets. Photos generally turn out better since you have the sun at your back. Above all, it's easier to get to and the visiting season is longer.
The Camping Detective's Sidekick getting ready for a day of viewing the sights.

There have been times I wanted to visit the North Rim and the road was impassable due to snow.

For us, May is a perfect time to visit the Grand Canyon. First, the crowds are smaller, making it easier to get around and find parking at the various view points.

The scenic views are nothing short of impressive! Second, since we enjoy hiking in the canyon, the daytime temperatures down at the Colorado River level are much
more comfortable. Even in May the temperatures can reach the 90's at the bottom of the canyon if there's no breeze.
Grand Canyon temperatures and Grand Canyon weather.
We've had perfect weather on both May trips to the Grand Canyon so far. Hardly a cloud in the sky. However, temperatures tend to vary wildly at the Grand Canyon during that time. Keep in mind the South Rim elevation is around 7000 ft and the North Rim is 8200 ft. With clear skies at night we've had night time temperatures as low as 19 degrees. Day time temperatures can get as high as 60 degrees in mid-May. We took our cold weather sleeping bags on both trips and were glad we did.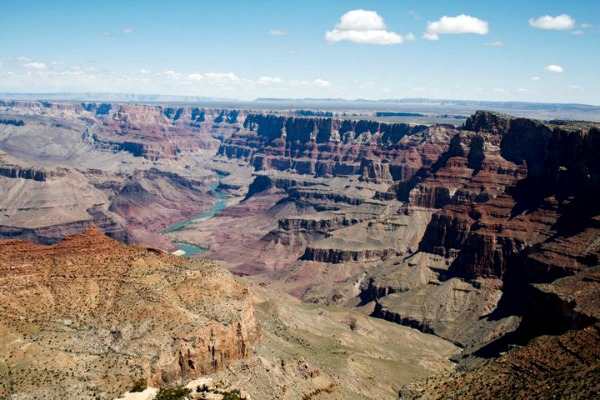 A view of the Colorado River from the Kaibab Trail.
In the summer months you can expect thunderstorms and rain showers.
During an October Grand Canyon camping trip I once woke up to a foot of snow!
We stayed at the Mather Campground on both Grand Canyon camping trips.
The tower at Desert View

We never arrived early enough to find a vacant site at Desert View Campground. You almost need to get there in the morning and wait as they don't take reservations. First come, first serve!

For Mather Campground it's a good idea to reserve a campsite ahead of time. You can do that from the Grand Canyon Camping link.
Mather Campground is extremely busy! Of course, a busy campground is also a noisy one. You'll certainly get your chance to hear car alarms several times during the night.
On a positive note, there is a food market, cafeteria and few shops within walking distance. The market even sells some really nice camping gear.

Bus stops are also nearby if you'd rather not drive. The hot showers are great, especially after a long hike or a cold night in the tent! $2.00 will get you 8 minutes. The bathrooms throughout the campground are modern and well kept.

The campsites at Mather Campground are spacious!
| | |
| --- | --- |
| | Something else that the Mather Campground has that I've never seen anywhere else before was a dumpster to donate used camping equipment. I suppose if you forgot a piece of camping equipment at home you could always go dumpster diving for a temporary replacement?....I didn't really say that did I? |
There is also a recycling center there that accepts all sorts of stuff like propane canisters and plastic!
South Rim Camping outside the National Park.
A view of Indian Springs-Bright Angel Trail

Alternatively camping can be found south of the Park in and around the town of Tusayan. One is a commercial campground the other is run by the forest service.

You can find more information by clicking here and scrolling down the page there.

We hope you have a great Grand Canyon camping experience!
Click on the link to go back to the camping trip ideas page from the Grand Canyon camping trip page.
---
You may also be interested in reading more about:
A September trip to camp in Yellowstone National Park
Our trip from Southwest Colorado to Yellowstone National Park was incredible.
A late summer trip to Bryce Canyon to do some camping
Camping and hiking while visiting Bryce Canyon was one of the things on my bucket list.
Ever hear of Great Basin National Park?
Most people haven't, but exploring the cave in this park is a must.
Where is Goblin Valley?
This is a fun, out of the way place to visit.
Thinking about camping La Sal National Forest near Moab Utah?
Do it, it's awesome! Especially if you like free camping.
Camping in Australia
If you're tired of winter and you want to go camping. Head to "The Land Down Under".
---
---
---
---