Looking for a camping tent? Let's find one that's right for you.
Features to look for when purchasing a tent.
On this camping tent page I'll be explaining what features to look for when purchasing a tent. We'll also take a look at how some of the features offered to you that can benefit your camping experience.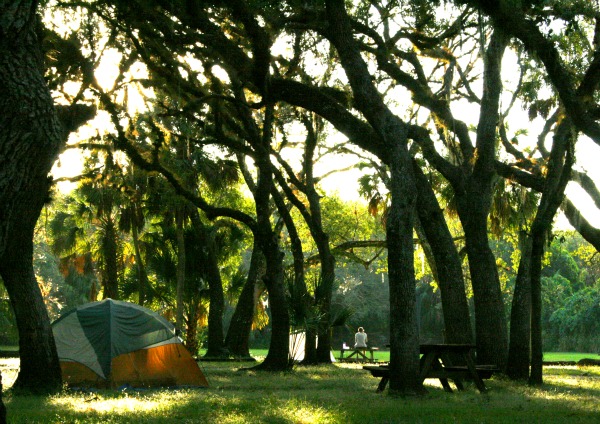 Camp Venice Retreat Campground, Florida
Recommending any particular tent would be a difficult task.  Camping tent technology is constantly changing. Materials are always improving. Fabrics are becoming lighter and more durable. Tent pole design is a more rigid tent structure and at the same time easier to set up.
First you'll need to determine the size of tent you may need for your family or friends. Will you be camping on a beach or in the mountains when there is snow? Another thing to consider is whether or not you'll stick with car camping in a campground or may venture out  to eventually do some backpacking. In that case you may want to purchase a lighter weight tent.
When looking at camping tents here are some things to consider:
• What size camping tent should I get? Both of my tents are 3 person tents, even though there are only 2 of us. I like the extra room, which by the way, is not that much! Pay close attention to the floor plan dimensions when looking at tents. Also consider the width of your sleeping pads if you already have some. If they are wider than the width of your tent you'll need to either overlap them or they'll curl up along the sides of the tent. Also, check the length of the sleeping area and compare that to your height. It's better to have extra inches on both ends. It's always nice to have some room for your extra clothes and other gear.
• Tent prices. Get the best tent you can afford but don't break the bank. Well designed tents last a long time and cheap ones don't. 
• Freestanding tent or not? I prefer freestanding camping tents. They are easy to set up but best of all you can pick it up and move it around if needed.  You may need to move it to more level ground (providing it's not staked down.) It's nice to be able to tip it up and shake the dirt out of it too before rolling it up! 
• Half dome vs. quarter dome. I like the half dome tents better. The rectangular layout is more efficient. The walls are vertical to give it a more spacious feel. Usually there are 2 doors which makes getting out at night more convenient (It's no fun having to climb over the other person.) More storage area for gear since there are 2 vestibules. (A vestibule is the covered area outside of the sleeping area. Great for storage and dirty boots.) More headroom too, which makes it easier to kneel and change clothes or sort through your gear.
• A tent should be easy to set up. It happens sometimes that you'll be setting up a tent after dark. So, the easier the better! Having no more than 3 tent poles in nice. Best of all is to have a tent where you don't have to feed the poles through a sleeve but rather have clips that attach to the poles. Fast and easy!
• What about mesh for ventilation?  It's important to have mesh for ventilation to reduce the amount of condensation that forms inside the tent. But BEWARE of a couple of things. It's good to have the no-see-ums mesh because otherwise you will-feel-ums later. Also, I'm not that much a fan of all the mesh on top of the tent because if the wind blows hard the dirt will cover you as it blows in between the rain-fly and the tent. Be sure to pick a style where the rain-fly seals well around the outside so this will not happen. Also, if you're camping without the fly in the summer with a small child and you put him down for a nap, careful because the sun will shine in. Also, everyone can see through the mesh and witness what you're doing in there as they walk by…..changing clothes perhaps.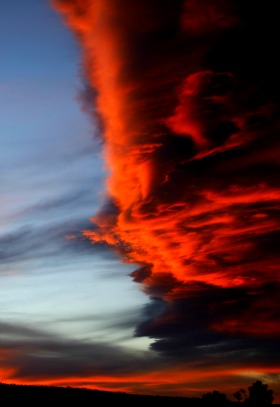 • What are the best tent poles? I prefer the aluminum poles. Better if they are made by DAC. Fiberglass has a tendency to splinter especially as they age. The material degrades over time. I've seen carbon fiber shatter in the wind and snow. If an aluminum pole gets damaged it's easier to temporarily repair as well.
• How should the rain-fly fit? The rain-fly needs to be there to keep you dry. It's important the fly fits tight over the tent and doesn't sag. It should NOT touch the main tent fabric because if it does water will seep through if it rains. Also, if it's not tight it will shutter in the wind and keep you awake at night. The fly should also be UV resistant or colors will quickly fade and the material will no longer stand up to the elements.
• Other things I look for in a camping tent. Find a tent that doesn't cave in when there's a slight wind. I prefer a tent that has sealed corners and stitching. Tents that have a "bathtub bottom design are best since they leak less. Having two doors is a great thing. A bit hard to find is a good door zipper that can be opened with one hand and doesn't jam, has its advantages. One of my tents has illuminated zipper pull tabs which are easy to find at night. Loops on the inside to hang thing from like a lantern for example. Pockets to store small items. I'm also a fan of mesh on the sides of a tent for better ventilation.
Hope these camping tent ideas will help you purchase a tent you can enjoy for many years.
It is possible to get a really nice tent for about $160 USD. REI offers a couple nice ones. For some extra features the price will be up towards $250. Specialty tents will be much more expensive, but, no need to spend that much if you're starting out. 
Some tents even come with a footprint. It's a piece of specially cut cloth to protect the bottom of the tent and you. Click here for more footprint tips on the camping tips page.  
More expensive tents come with better stakes. Click here for more info on tent stakes (coming soon).
Remember, it's always a good idea to set up the tent in your backyard first and get familiar with it before heading out on a trip.
Have fun! 
Click on the link to go from the camping tent page to the things for camping page.
---
You may also be interested in reading more about.....
What to look for when purchasing a sleeping bag.
Some basics to consider before buying a sleeping pad.
Some things to consider before you purchase a flashlight for camping.
---
---
---
---