How to Find the Perfect Sleeping Bag 
Are you in the market a Sleeping Bag for camping?  Let's help you find one.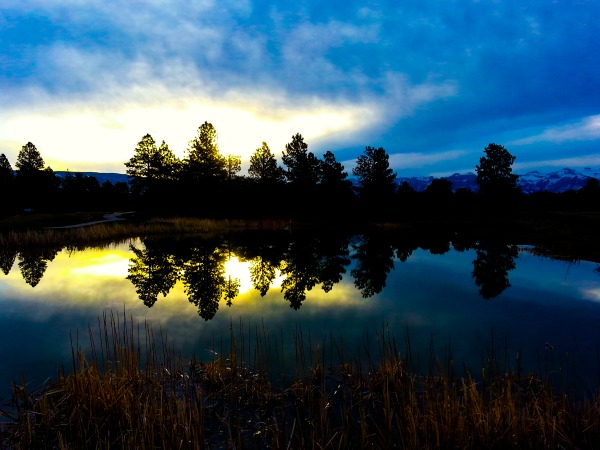 Sunrise in Southwest Colorado.
When looking for a Bag to go camping there are some obvious choices that are immediately apparent.
Mummy shaped or Rectangular? 
I own both. The mummy shaped bag is better to transport since it packs smaller which makes it ideal if you decide to go do some backpacking. The nice feature about the rectangular one is the ability to zip them together if you have two of them. Perfect if you're going car camping with your partner.
Synthetic or Down? 
My last 2 bag purchases have been Synthetic. Since my travel plans included wet conditions in countries like Iceland, Norway, Sweden and Patagonia, the synthetic bag was the better option.
Synthetic Insulation:
Pros
• Performs better in wet conditions – The synthetic insulation does not absorb moisture so it will still keep you warm even when wet.
• Quick drying – If your bag does get wet it will dry quickly.
• Easy to clean – This feature makes it better for beginner campers and especially kids. You can easily wash the bag.
• Less Expensive – Synthetic bags cost much less than down.
Cons
• Does not compact as well and is heavier than down – The synthetic materials are more bulky and in order to attain the same temperature rating as down more material is required.
• Requires a compression sack – If you decide to ever go backpacking you'll need a compression sack in order to reduce the size of the bag to make more manageable.
• Synthetic materials don't last as long as down – Over time synthetic materials break down whereas down doesn't. I haven't reached that point yet with my synthetic bags even though I have had them for a long time. I still prefer synthetic materials, since they are so much easier to take care of.
What temperature rating should I look for? 
That's a difficult question to answer since I don't know where you'll be camping. I use my 20 F mummy bag in early spring and fall when the night time temperatures go below freezing (32 F/ 0 C). 
My rectangular sleeping bag is rated to 40 F which I use during the summer months. It does get too warm some nights but that is easy to remedy since it is possible to unzip the entire bag and use as a blanket.
Things to look out for when buying a sleeping bag. Things like Zippers! 
Zippers are known to be the weakest link. Many bags have zipper issues! The number one complaint of users is the zipper getting stuck. This can be a real problem if you need to get out of your bag at night to go to the bathroom, the zipper gets stuck, and you can't get out!
I guess I am lucky. Both my bags have zippers that un-zip themselves at night. I tend not to notice until a cold draft of air wakes me up.
Most bags come equipped with draft tubes. Draft tubes run along the zipper to prevent the warm air from leaving the bag and cold air entering. The zipper does not insulate even when closed. This is why mummy bags rarely have full length zippers.
Unfortunately not all draft tube designs are equal.
Quite often the draft tube gets caught in the zipper and gets stuck. My advice:
1. Look for a bag where the zipper won't get stuck. You may need to do a little online research and read some customer reviews first.
2. Make sure it comes with a locking zipper, unlike my bags that magically  un-zip at night.
3. Look for zipper pull tabs that are easy to find and grab. Some are very small and difficult to find.
Many sleeping bag buyers make this mistake.
Bags come in different lengths. Make sure the bag is long enough for your height. You don't want a tight fit! It's best to have some extra room down by your feet otherwise your toes will get cold.
A couple of extras you may need or want when buying a bag.
1. Get a sleeping bag liner. A liner will help keep the inside of your bag clean. It easier to wash the liner rather than the bag. Since many of the liners are constructed from a insulate material, you'll stay warmer at night too. If you purchase a liner designed for your bag you may be able to fasten the liner to the bag….a nice feature!
2. A compression sack may be a good idea. Sleeping bags come with stuff sacks, which is okay. However should you ever decide to ever go backpacking you'll need a compression sack for your synthetic bag to reduce its size. Otherwise it may be difficult to fit in a backpack.
How much to spend? 
Sleeping bags can get very expensive! But if you're getting equipment together to camping for the first time, it's possible to find a really nice bag from $75 to $180 that will have a good temperature rating and other nice features. Some bags come equipped with an extra compartment for a pillow.
If you're planning to camp only in the summer months then it is possible to get an adequate rectangular bag from $50 to $80.
Here is a really neat bag from.....
Backcountry.com Homepage
website that offers a sleeping bag for about $175.95 you can get the Kelty Cosmic Sleeping Bag: 21 Degree Synthetic. Under the description it says the material is so soft you won't want to get up in the morning. If you purchase this bag, check it out and let me know if it works.
This one gets great reviews and could be an excellent sleeping bag!
Click on link to go from the sleeping bag page back to the things for camping page.
---
You may also be interested in reading more about.....
The importance of having a really good sleeping pad.
How to choose the right camping tent for you.
Some things to consider before you purchase a flashlight for camping.
---
---
---
---
---