Let's try the"Spicy Outdoor Chicken Wings Recipe"


If , you'd rather have rice with "Spicy Outdoor Chicken Wings Recipe" instead of spaghetti….no problem. Or, you can even make potatoes instead of  data-custom-mark="true"rice.

Use any vegetable combination you like. Broccoli, Cabbage, Asparagus...It's all up to you.
A mouth-watering photo of a prepared chicken wing recipe
For this example chicken wings recipe I'll using the chicken wing drummettes from Red Bird. If you're cooking at home it doesn't matter if you use wings or wing drummettes. For camping, the wing drummettes are easier to work with.

---
Download your free printable copy of the Chicken Wings Recipe PDF here.
---
Spicy Outdoor Chicken Wings Recipe with Spaghetti and Snow Peas:
Ingredients:
1 Package - Redbird Chicken Wing Drummettes (approx. 10/pkg)
1 hand-full - finely chopped mushrooms
2 tbsp – chopped onion
2 tbsp – chopped red pepper
1 tbsp – chopped garlic
1 tbsp – chopped ginger
1 tbsp – chopped parsley
2 cups – pre-cooked spaghetti
1 hand-full - snow peas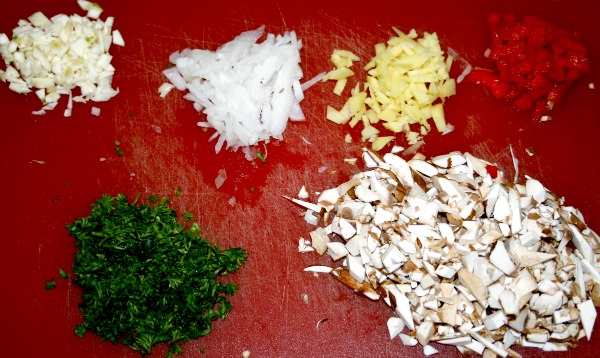 Spices used:

Lawry's Seasoning Salt
Soy Sauce
Red Chile Flakes or similar, if you like it hot!
Salads are optional:
A little bit of olive oil poured over fresh salad with a dash of sea-salt is simple to prepare and refreshingly delicious with dinner.
Note: For the frying pan use either butter or olive oil, or perhaps both.
Preparation: (20-25 minutes cooking time)
#1 - Put 1 tbsp butter and heat in "Teflon" frying pan until melted.
#2 - Add chopped onion, ginger, garlic & red pepper to the pan.
Simmer until those items are glazed over.
#3 - Then add the mushrooms. Simmer and stir with a spatula until mushrooms become well mixed with all other ingredients and mushrooms become glossy. You can cover the pan with a lid for a couple minutes to speed up the process.
#4 - Empty all those ingredients from the pan into a bowl, cover and set aside.
#5 - Season the chicken wings with a little Lawry's Seasoning Salt.
#6 - Put a little olive oil in your empty frying pan, toss in the wings and fry with low to medium heat and cover with a lid. After 10-15 minutes, turn over the wings with your tongs and add a some red chile flakes at that time.
#7 - Total cook time is about 20-25 minutes until golden brown on both sides.
#8 - Now is a good time to pour a little soy sauce…a few drops, over each wings giving them a nice color. When done the meat should start separating from the bone.
Relax! You're doing great so far with the chicken wings recipe.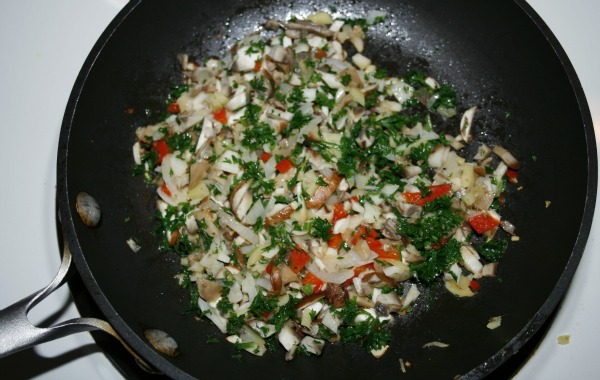 #9 - Just after you've flipped over the chicken and added the red chile flakes throw your snow peas into a pot of boiling water about 1 inch deep. Cover and boil for 10 minutes or so. If you have a vegetable steamer….even better.
#10 - At that point add the onion/garlic/parsley/ginger/red pepper/mushroom mixture, from the bowl, to the chicken in the frying pan.
#11 - Stir around with the spatula.
#12 - After a couple minutes, increase the heat and add your pre-cooked spaghetti.
#13 - Stir around with the spatula until everything is mixed. Reduce the heat to low and cover with lid for a couple minutes until all contents in the pan are hot and ready to eat.
Your vegetables should be ready about the same time. (10-12 minutes total)
Now you're ready to serve your first delicious chicken wings recipe! Bon Appetit!
---
Return to the camping recipes page for information on what to buy for your camping trip. And, go here if you need to get back to the home page.
---
---
You may also be interested in trying these camping recipes......
Everybody's favorite, how to grill steak: Outdoor New York Strip with Sexy Quinoa recipe and....
Another favorite, prepare a mouth watering meal from this how to cook salmon recipe page.
Prepare... Mean Hot Ground Buffalo Recipe with Rice in 8 easy steps in less than 15 minutes.
Discover how to cook steak, the perfect steak, at your campsite.
Making delicious Stir-fry over rice from a lean cut of Flank Steak is only one of many options.
---
---