How to prepare and cook mushrooms on your camping trip.
Mushroom Stew/Soup over Rice with Salad
How to cook mushrooms....We camped in the San Miquel Mountains of Colorado last week we found a beautiful Boletus Mushroom while hiking in the forest. Since we had little snow pack last winter and a dry summer start, we didn't have much hope of finding any edible mushrooms.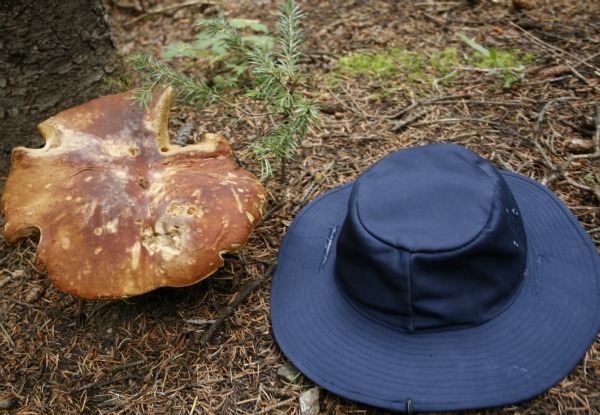 Big Boletus Mushroom
Luckily the monsoon gave us a wet July. It was wet enough to provide "one" excellent mushroom! This particular Boletus Mushroom weighed in at probably 3 pounds! Was in excellent condition and large enough to provide 2 meals for 2 people!
Ingredients:
Unfortunately, we didn't have all the ingredients to properly cook mushrooms. A trip to the nearest town grocery store provided the necessary ingredients. Eggs, parsley, onion, whipping cream and stock to make a broth.
Cleaning Mushrooms:
When cleaning mushrooms it's best to clean off the dirt with a brush or even a toothbrush. I usually use a piece of loosely waded up paper towel. Try to avoid using water and definitely do not throw them in water to soak and clean them.
Storing:
Mushrooms are stored best in wrapped paper towel. They don't like being closed up in an unventilated plastic bag. They will get slimy very quickly.
Preparation:
When you get ready to cook mushrooms they should not be slimy or have any dark rotten parts on them.
Options:
Although the Boletus Mushroom is perfect for this meal, other types of mushrooms work as well. For example: Portabella, Chantarelles and Shitake.
The Boletus cooks quickly compared to some other types. The others tend to be more chewy and will need more cooking time. Also, by using other mushrooms the quantities of the broth and/or mushrooms may have to change.
Eating too many mushrooms could result in a tummy ache.
Slicing:
When you cook mushrooms make the slices generous in size, that way they keep the flavor.
To keep the meal very simple, just saute' the onions, parsley and mushrooms and serve over rice. Simple. Done. Delicious.
A note about egg whites:
If you follow the recipe you'll notice I toss the egg whites aside. Doing this does not change the flavor, only the appearance. The egg whites give the meal strange looking texture which is less visually appealing when you cook mushrooms.
Serving:
Serve mushrooms over rice, couscous or even pasta. Don't serve them over potatoes…too heavy and they tend to take away the mushroom flavor.

---
Download your FREE Mushroom Stew over Rice Recipe PDF.
---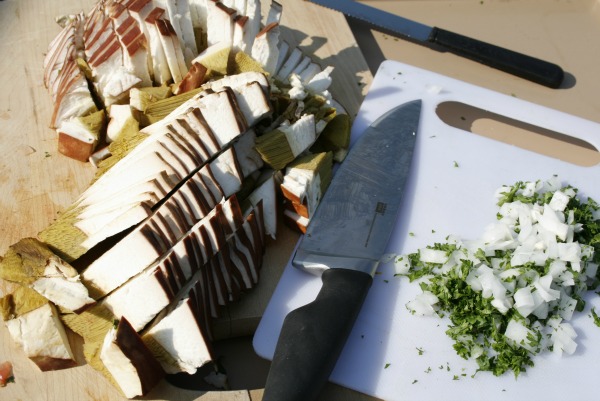 Sliced Mushroom, Chopped Onions & Parsley
Fresh Mushroom Stew/Soup over Rice
Ingredients:
2-3 cups – pre cooked rice (Nishiki white rice)
3-4 cups – sliced boletus mushrooms (shitake or portabella mushrooms are fine too but take longer to cook)
2-3 tbsp – chopped parsley
4-5 tbsp – chopped onion
½ cup – heavy whipping cream
3-4 egg yokes (Note: adding egg whites will give the meal a funky texture.)
3 tbsp – real butter
1 tub– Knorr homestyle vegetable stock. (I used beef stock.) I like Knorr Brand because it does not contain MSG-monosodium glutamate (1 tub makes 3-1/2 cups of soup)
Note: By using 3-1/2 cups of broth it will become a soup. Use 2 cups or less for a stew....it's up to you which you prefer. Saving the left-over broth for another meal is possibility.

Extras:
A small salad is a delicious addition to this meal.

Spices used:
Sea salt & Black Pepper


Knorr homestyle Stock. Perfect to cook mushrooms
Preparation: (Overall cooking time – about 30 minutes)
1 – Melt 1 tub of Knorr Homestyle Stock into 3-1/2 cups of boiling water in a pot to make a broth. Stir contents until dissolved. (Use less broth if you'd like to make a stew.)
2 – Melt 2 tbsp butter in a frying pan.
3 – Sauté the mushrooms, parsley and onion until tender and glossy with medium heat. Stir occasionally.
4 – Reduce heat to low.
5 – Meanwhile: Mix the egg yokes and whipping cream in a cup.
6 – Once the mushrooms and onions are tender pour the contents into the pot of broth. Also add the egg and cream mixture from the cup.
7 – In the now empty frying pan melt 1 tbsp butter and heat the pre-cooked rice with low heat. Cover the pan with a lid and heat contents for 10 minutes. (Alternatively: Saute' some onions, parsley before adding the rice.)
8 – Stir the rice occasionally with a spatula and stir the pot of mushrooms until hot. Add some salt and pepper as desired.
9 – Serve the mushrooms over rice in a bowl or plate when hot.
In my home kitchen:
If I were in my kitchen at home I would be preparing the rice at the same time while I cook mushrooms. When everything is cooked, spoon the hot cooked rice onto a plate and the serve the mushrooms from the pan over the rice.
---
---
You may like these delicious vegetarian recipes....
A perfect quinoa recipe for your camping trip.
Click here to check out the edamame recipe.
Here's an easy curry recipe to enjoy!
Have you ever wondered...what is farro?
A versatile nutritious lentil recipe for camping.
---
Click here to go from the cook mushrooms recipe page to the vegetarian recipe homepage.
---